Fender Mustang I Electric Guitar Amplifier
Fender Mustang I Electric Guitar Amplifier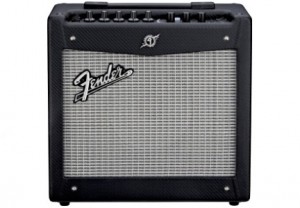 Price: $119.99
The Fender Mustang I Electric Guitar Amplifier is reviewed by those who have purchase this amplifier.
Visit Website

I bough this amp for my 9 year old son who is learning guitar for his Christmas present. I thought that since I love Fender guitars and since he has a mini Squier we'd like to get something in the Fender Family. I seriously expected a cheap imitation of a Line 6 Spider with a Fender logo slapped on it. I should have had more faith in Fender.
I am blown away by the sounds that come out of this amp. The AMP models are far more real and interesting sounding than any modeling tool I have ever used. The amps don't sound digital or processed, they actually sound overdriven when you crank the gain. You would swear that there are tubes in this thing when you listen to it. I can't get over the Bassman, the twin Reverb and the Deluxe. They sound so full and strong.
My biggest compliment of the Mustang is that it is the ONLY modeling amp that has great sounding Vintage tones. Line 6 has tons of metal stuff, and a lot of weird niche tones. Vox has never really made great modeling stuff. Digitech sounds super processed and the vintage tones are terrible.
If you play Blues, Rock, Classic Rock, Country, Funk etc… This amp is for you. There is just enough metal or heavy sounds to have a few choices for Modern Metal, but Metalheads might be better off with the Line 6 stuff.
The other great thing about this amp is how easy it is to tweak the tones using the amp controls. By looking at the controls, you know right where you are and what you have to do to edit your sound. You don't need to dive 5 levels deep into an LCD screen in order to make great sounding tweaks.
But if you like to go deep, you'll love the Fender Fuse software. It is easy to use and there are countless user submitted tones to help shape your sound.
The fact that Fender not only included FUSE with this amp, but also the Ableton recording software that is also pretty user friendly and fully usable without having to pay to upgrade anything, is just frosting on the cake.
I am a father of 4 who normally has to practice at night and being able to have an amp that can get quiet but still sound amazing, with the added features of a headphone jack and an AUX in, I can play whenever I want. I am actually selling my nice Tube amp and using the Mustang as my only amp for now, and I feel like I am not missing out on any features or downgrading my sound at all.
The value of this amp is amazing. People will shell out 2-3x as much for a Line 6 modeler, but the vintage tones will not sound anywhere close to as good as the Fender tones.
Have had this amp for a few weeks and my son and I can't stop messing with it. We are constantly finding new sounds. Connecting the online software gives you even more sounds and more control. We have dialed in everything from an old Fender Bassman to a Vox AC30 to a Marshall with so many effects that you'll never need a pedal again. Unreal for $!00.
I was skeptical about this amp, since it was so cheap, yet had all these features. Youtube and the Fender website allowed me to watch videos that impressed me. I took a chance and decided to go with the Mustang 1. I am glad I took the risk, cause this amp is simply amazing. First, without the software, it would make an incredible amp, combined with the FUSE software, it is over the top! With Fuse, you can add nearly any effect, and alter the effects just like you could on real pedals, so much more in depth and detailed than even my expensive multi-effects units! Fuse is simple to use as well, although the other 2 software programs, Ableton and Amplitube, do NOT impress me. Ampltube works, but I don't know what it is used for other than bypassing the Mustang and playing through your PC speakers. Ableton just doesn't seem to work. It loads up, and I can tell that it's working, but I can't get it to record ( which was one of the reasons I was interested in this amp ). The amp itself is simple to use, looks very handsome, and has great sound quality. The amp and FUSE alone are worth the price! I can really care less about Amplitube or Ableton. Pure genius, to make an easy to use amp with the effects built in. No more lugging around extra pedals or cables ! Thank you Fender, it's the things like this that keep me loyal to you.
The Fender Mustang I Electric Guitar Amplifier was top rated by 129 of 155 individuals who purchased this amplifier.